Description
We are working on an upgraded lever that will be compatible with both the old and new sear housing.  If you would like to have a DryFireMag that works for both the old and new sear housing, please wait until the new product is available.
Before purchasing please verify the following: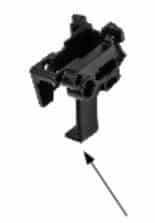 The DryFireMag model P9 was designed to work with the Sig Sauer P320 upgraded Fire Control Unit. Please check your FCU to verify that your Sear housing is Like the one pictured above, specifically the bottom right side.  If your FCU has not been updated your DryFireMag will not function properly. If your Sear housing does not look like the one pictured, you may want to check with Sig Sauer to see if your gun qualifies for their free upgrade.
Thank you for taking time to verify before purchasing. 
You can contact Sig Sauer customer service at: (603) 610-3000 option 1. 
The DryFireMag will allow you to practice your technique without having to remove your support hand to cycle the slide of your pistol. It was developed with this in mind.
NOT compatible with .45acp models
Compatible with the following models:
P320
P320C
P320Carry
P320F
P320RX
P320RXP
P320X series
P320X5 Legion
P320AXP
P320WCG
C320
M17, and M18

Please note:
The DryFireMag is designed for dry fire practice and is not recommended for tactical reload practice.
If you are not completely satisfied with your DryFireMag™, you may return it within 30 days of your
receiving it, for a full refund.  Buyer is responsible for return postage.  Package must be sent with
tracking and with tracking number given to DryFireMag, LLC. Refund will be paid when the product is
received in unaltered and undamaged condition.  Contact DryFireMag™ at returns@dryfiremag.com for
authorization.
Warranty:  DryFireMag™ will repair or replace at our option within 1 year of purchase any
malfunctions of the DryFireMag™ due to workmanship or faulty materials.  Any malfunctions due to
tampering or physical damage will not be covered by this warranty.  This will be determined at the
sole discretion of DryFireMag,LLC.  This warranty covers the original price of the DryFireMag™.
Contact DryFireMag™ at returns@dryfiremag.com for return authorization.